Self Storage in Cornwall
This is a self storage service offering a range of different sized private storage rooms, within a purpose built self storage facility, allowing you to organise your belongings in a clean, dry and highly secure purpose-built storage environment.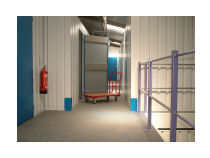 The self storage agreements for our units are flexible according to your needs whether short or long term with a minimum period of one month. Access to your self storage room is available 7 days a week within our extensive opening hours. With all your loading and unloading carried out in an internal covered area.
Our modern self storage facility is equipped with the latest fire and smoke detection sensors on every floor and are protected by highly sophisticated alarm systems including advanced digital 24hr CCTV surveillance to ensure your goods are safe and secure in our self storage facility at all times.
Almost anything can be stored in our self storage rooms: clothes, furniture, computers, garden furniture, sports equipment, a surprise present for a loved one or your confidential business or personal files. In fact as long as the items are not illegal, explosive, flammable or perishable, we can store them in any of our self storage areas.
To enquire about our self storage room prices and availability, please click here
Secure Compound Storage
Your vehicles, trailers, boats, caravans and articulated lorries can be stored externally in our secure outdoor parking compound. In this area we can also store machinery of all shapes and sizes.
To submit an enquiry for a price on vehicle storage, click here
Packaging Materials
We stock the packing materials you may need to store your belongings with us, below is brief list of items however, we stock many storage related products including bubblewrap, acid free tissue paper, dust sheets, protective gloves and packing tape.
Large double walled cartons - £3.67
These cartons are great for packing fragile goods and ideal for transporting giving resistance against damage, manufactured from high quality twin fluted corrugated board.

Length 600mm width 400mm height 480mm
Medium cube twin wall carton - £3.40
These cartons are strong and sturdy and are useful for storing items such as china, kitchen utensils and much more.

Length 460mm width 460mm height 460mm
Small twin wall carton box - £2.66
These cartons are strong and sturdy and are useful for storing items such as cds, dvds, books, videos and ornaments.

Length 460mm width 320mm height 320mm
Lidded archive box - £3.12

These cartons are strong and sturdy, have removable lids and are useful for storing items such as documents, paperwork, magazines, cds, dvds, books, videos and ornaments.

Length 385mm width 290mm height 260mm
Master padlocks - from £6.20 to £10.23
A hardwearing, tough padlock that will keep your unit completely safe and secure. Available with either combination code or key.